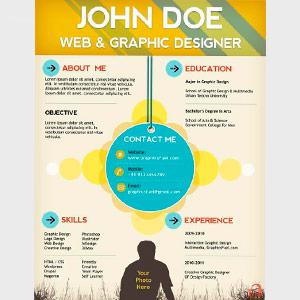 It makes no matter how hard you try to create a unique and catching resume because all this you do with the aim to be invited for a job interview. Nevertheless, if your target is to create a professional resume, you need to know that it should keep industry standards. A resume must be clear and easy to read.
Yet still, if you continue sending your resume and haven't yet got an invitation for a job interview, it goes to show that you do anything wrong. Maybe, in this case, you need an impressive resume? Definitely, in some instances, this method doesn't work. So, why not to try some creative methods?
Let's take a look at the most creative resume styles that you can use and get the job of your dream!
Facebook Resume.
This resume style was developed by a multimedia producer. The main feature is that the data is presented in the same way as on Facebook account. Besides, there is also a photo attached at the top of the resume. Besides, this resume style also contains the section where people can leave testimonials about your work. Of course, you can't use this resume format in all cases. Yet still, in some instances, it can be a winning solution!
3D Resume.
This style is used only in case the usual one-dimensional resume style is too boring. This document type really deserves attention!
Fabric Resume.
Of course it is not easy but it is worth attention. Furthermore, you'll definitely make a good impression using fabrics in a resume. You'll definitely show that you are a creative person. Nevertheless, this resume style is used in rare cases (only if you apply for creative job positions).
Biography Resume Style.
It is very similar to a biography. It also comprises the section "about me". The data about yourself is presented in the chronological order.
Booklet-type Resume.
This resume style is similar to an advertisement booklet. Nevertheless, it can comply with demands of those who really have long experience of work and have what to show on a resume. As a rule, it consists of 8 pages, where every section one is allocated to a single page. This style allows an employer to have a clear perspective about all your qualifications for the chosen position.

If you consider that you shouldn't be creative or vice verse, you need the most creative resume, welcome to ResumeFormat2015! Our experienced team of writers knows how to meet the requirements of the most demanding customers. We are ready to help you create any type of a resume!