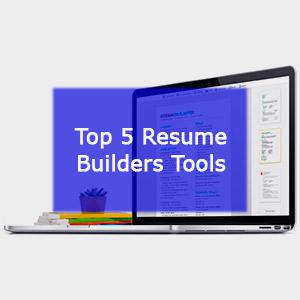 Except for the possibility to create your resume by yourself, you can also make use of the proposition, offered by online resume builders. These are very useful tools, allowing you to organize your skills, work experience and accomplishments into a proper resume. The prime objective of a proper resume builder is to highlight your best skills and create a professional profile.
Yet still, not each builder guarantees the best result. In this review, we'll check top 5 online resume builders in order to determine which one you can trust.


SlashCV
According to customers' testimonials, this service is deemed to be the best one. It is very easy to use and enables you to compose a worthy resume.
You can begin building your resume without the necessity to sign up and entering your email address. Nevertheless, if you desire to experience the benefits of all additional options, you will need to register. Then, you'll be able to modify style templates, save and later even edit your resume (if necessary). If you have a Dropbox account, you can link it to the builder. Thanks to this, you will have an opportunity to share your resume later.
This resume constructor is free of charge!


Uptowork
This service isn't free, but also rather popular. It offers two billing plans:
A starter plan ($4.99 per month);
A premium plan ($9.99 per month).
Users of a starter plan will be offered to use only 4 templates for composing a resume. If you wish to get more, you will need to purchase a premium plan and you'll get 20 unbranded templates.
The portal is also easy to use and enables you to get a nice-looking resume. It also allows you to form the keywords in the best format. Besides, you can also add a link to your blogs or social profiles, like LinkedIn, Facebook, Instagram, etc. This is a perfect solution for result-oriented people, but it is not free!


VisualCV
It is worth noting that this service is regarded to be one of the best ones in this list. It offers free resume hosting, and allows you to import your resume.
Choosing a premium plan, you'll get several nice designs, allowing you to make your resume look better. Besides, you'll be offered to preview your resume in a PDF format.
Nevertheless, free design features are limited.


Resumonk
This is one more resume constructor which has lots of positive testimonials as well. Nevertheless, its interface is a little bit cluttered. Be ready to spend some time, understanding how it works.
You can use it for free. In this case, you'll get several unique designs and several formatting options.
If you buy a billing plan, which costs around 19$ per month, you'll get many additional options such as multiple resumes, CVs, file export formats, etc.


CVMaker
This is a simple and absolutely free tool, allowing you to create your resume. There are many options that are offered for free. Besides, there is a capability to save your resume as well. You can also export it in PDF, TXT or HTML formats.
Furthermore, you'll be able to preview your resume before exporting. Design tools aren't limited as well. So, by applying this online constructor, you'll create a worthful resume in minutes.
We reviewed top 5 online resume constructors. In sober fact, each of them is a worthy software solution, allowing you to create your first resume. Yet still, if you still need help with your resume, welcome to ResumeFormat2015. We are an experienced team of authors who can help you in case you have any difficulties related to resume writing!